Saturday, April 28
Every spring my sister, Deb, and I take a spring camping trip somewhere. We only had five days this time so stuck relatively close to home to minimize the drive time. We settled on splitting our time between the Klamath Falls and Summer Lake areas.
Unfortunately the weather was not on our side. After eight days of beautiful sunny weather across Oregon, the forecast turned cold and cloudy right as we started this trip. In fact, as we drove east along Highway 58 we had snow:
With temperatures expected to get down to freezing at night, we had already figured that we wouldn't be camping the first night or two, but the snowy highway kind of clinched it for us. So we drove to the Crater Lake Resort and got a cabin there.
After settling in we went for a counter-clockwise drive around the lake, heading down the western shore, through periodic rain. We pulled in at Eagle Ridge Park. A road goes along Shoalwater Bay and we stopped at pullout to admire the birds. I didn't get great photos, but check out the video for bird footage and LOTS of bird songs.
It was very cloudy and I know there were mountains we weren't seeing.
There is an extensive trail network here, geared towards mountain bikes, but open to hikers. And we saw a new trail (Old Eagle) that is being constructed between the road and the shore of the bay and starts at the newly-constructed Shoalwater Bay Trailhead (photo below). (Here is an article from June 2017 about Spence Mountain trail network.) An exploration for another day!
We decided to continue driving the gravel road that follows the eastern shore of the bay. We took a quick look at the campground, which is pretty sparse and primitve. About six sites, not all of which have picnic tables, and a toilet. That's it. The road deteriorates significantly past the campground and I would not recommend driving out there without high clearance. We stopped at a roadside campsite where an abandoned campfire had been left to burn. Yes, it was a wet day, but come on! Put out your fires!
The good thing about stopping to put out the fire was that we saw a deer further up the shore:
We continued driving out to the end of the point, where the road makes a loop. We saw two trucks and a campsite there, but otherwise it was just a lot of trees and we didn't see a viewpoint. It wasn't until I got home that I learned there WAS something to see here. This article mentions a path and the remains of an old tavern:
The road ends at a parking lot at the tip of the peninsula, but a trail leads off the end of Eagle Point and down the slope to the shore of Upper Klamath Lake. Part-way down this path, off to the right and almost buried in thickets of chokecherries, lie the remains of other times, the memories of other people who once made this same walk. For here are strewn the wreckage and the rubble of the early 20th century's Eagle Ridge Tavern: shattered windows and melted glass, cracking concrete and broken bed springs.
Wish I had known about that! There is certainly not a parking lot out there, although I wish we had gotten out of the car to look for the path. Here is a 1911 photo of the old tavern: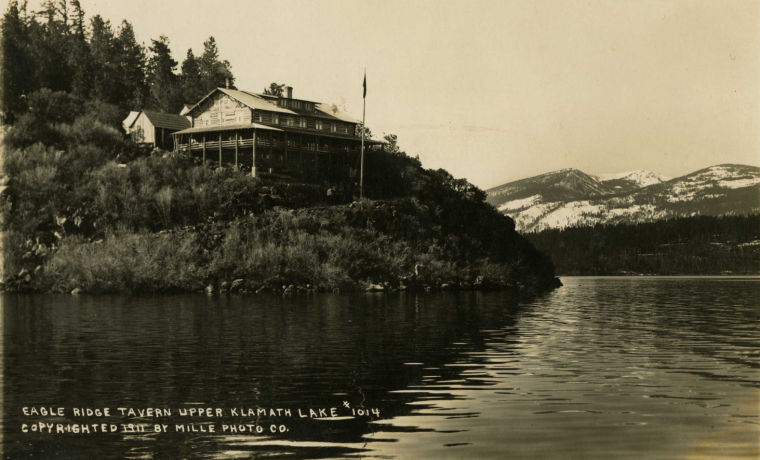 From the page where I found that photo:
The Winema steamboat made runs from Klamath Falls to Eagle Ridge and on to Odessa and Rocky Point. Travel by auto to Eagle Ridge was not practical in those days. The tavern was destroyed by fire in 1932. Some of the building's foundation stones can still be seen, but are hard to find in the brush that has taken over the site.
We drove on to Klamath Falls, then up the eastern shore of the lake back to our cabin where we made dinner. It was nice to have a kitchenette to cook our dinner. And considering how cold and damp it was outside, it was nice to be sleeping inside and not in a tent!
Video: