On Sunday I hiked up to Bull of the Woods Lookout via Pansy Lake.
There were about a dozen cars at the trailhead. When I got out of my car, ACK! Mosquitoes! Swarming me! I scrambled for my long-sleeved shirt and headnet, which of course were buried in my pack. Mosquitoes swarmed into my car. I hoped that the car would warm up as the day progressed and that the heat would kill the little bastards. (It didn't.)
I marched through the forest at a steady pace, which was the only way to escape the mosquitoes. There were lots of rhododendrons but only a few were blooming. Snapped a quick picture and kept on hiking.
Took the side trip down to Pansy Lake, which is really more of a marsh. To my surprise the bugs weren't that bad here. I took the opportunity to switch out long sleeves for sunscreen and bug spray due to the weather warming up.
The Pansy Lake Trail climbs up away from the lake and you get views of Pansy Mountain towering to the west.
I picked up Mother Lode Trail #558 and continued climbing. There were occasional views.
There was a nice little rock garden area at one spot where wildflowers were blooming.
Saw quite a few bleeding heart in the forest.
There are huckleberries EVERYWHERE. This would be a great hike in August. Actually, this would be a very slow hike in August, nom, nom, nom.
This must have been a great hike last year during the banner beargrass bloom. I saw hundreds of dried up beargrass stalks from last summer along the trail and at the summit. Note to self: come back and hike this again next time we have a good beargrass year.
I got to a spot where there was a wide view to the south and southeast. Not knowing which direction I'd have views at the summit I took a panorama photo here. (Turns out you CAN see this direction from the summit.) The snowy peaks on the left are the Three Sisters and the big bump on the right is Battle Ax Mountain.
I saw a really weird phenomenon that looked like a reverse rainbow. Later at the summit I saw that it actually encircled the whole sun. Is this a sundog?
After 2,000 feet of climbing I finally got a glimpse of the lookout.
Yay, I made it! And there are no mosquitoes up here…thanks, breeze!
The lookout is getting pretty run down. You can walk around on the catwalk but the lookout has a steel cable wrapped around it to keep the shutters closed and door barricaded.
Here it is in better days:
Part of one shutter was missing and I could see through the window that there was a bunch of junk inside, including a new-looking metal ladder. I thought that the lookout was considered officially abandoned, but judging by the stuff inside I don't think that's the case. I don't know what, if any, plans the Forest Service has for this place. I know that the Wilderness Manager for the Mt. Hood National Forest is dead set against having any structures inside wilderness and won't allow maintenance on existing structures (which is why the Upper Sandy Guard Station is falling to pieces). On the other hand, they did take the trouble to wrap the lookout in fire protection during a 2010 wildfire, so who knows.
Anyway, from the catwalk there are views. So many views! Everywhere! Looking east:
Looking north (that's Mt. Adams and Mt. Hood in the picture but I could also see Mt. St. Helens and Mt. Rainier):
Looking south:
Big Slide Mountain and WAY down below is Big Slide Lake:
The little white speck in the center is Gold Butte Lookout, where Greg and I stayed on a rainy weekend last September:
Sisi Butte and its lookout tower:
The views of Mt. Jefferson and the Three Sisters were especially nice.
I like to compare lookout views of today to the old panorama photos, if they exist. Here's how the views looked in 1934. Southwest: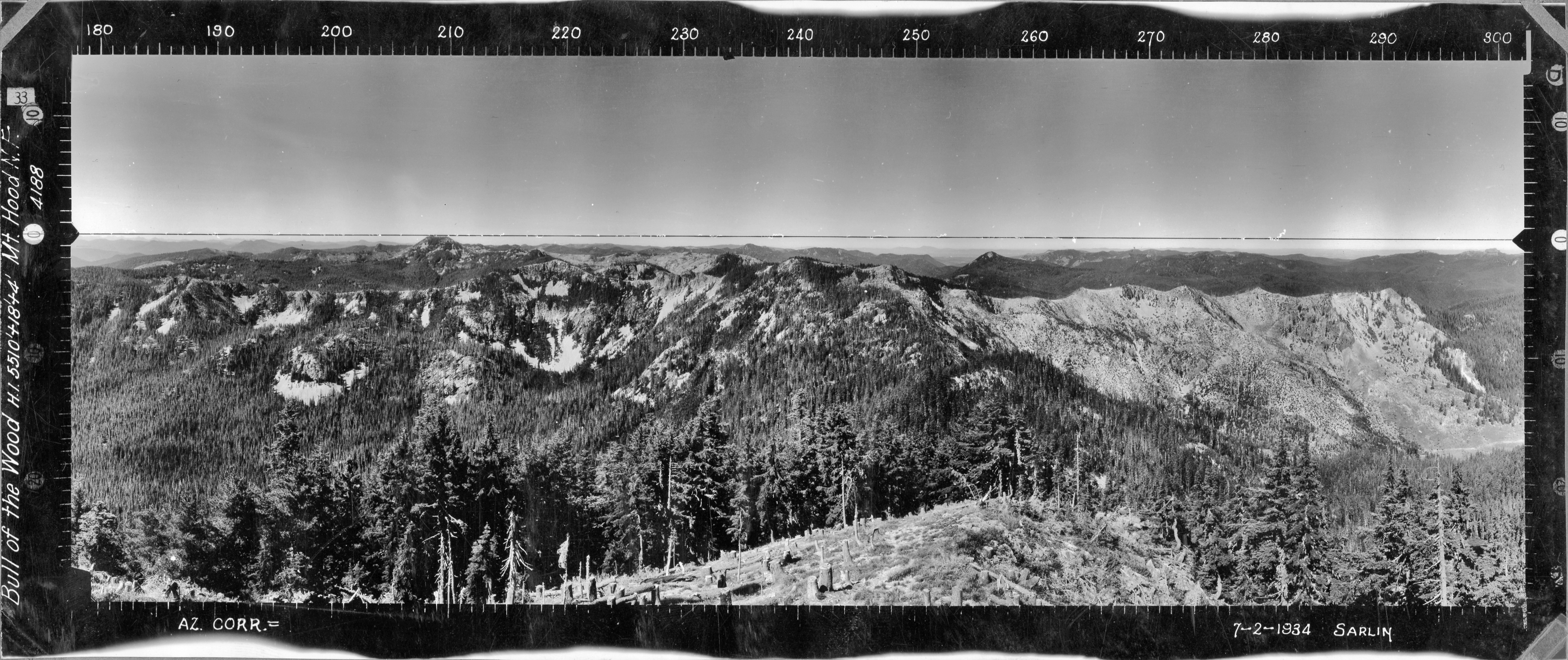 North: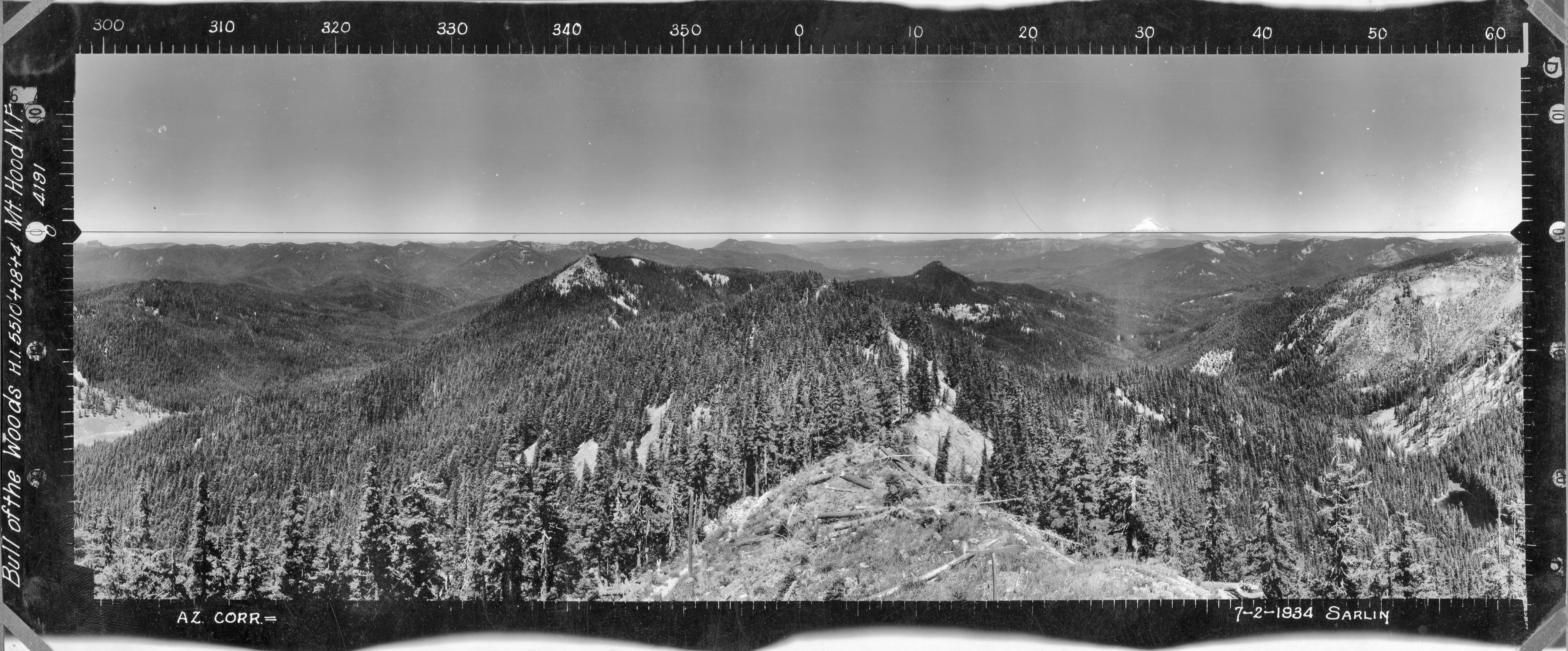 East: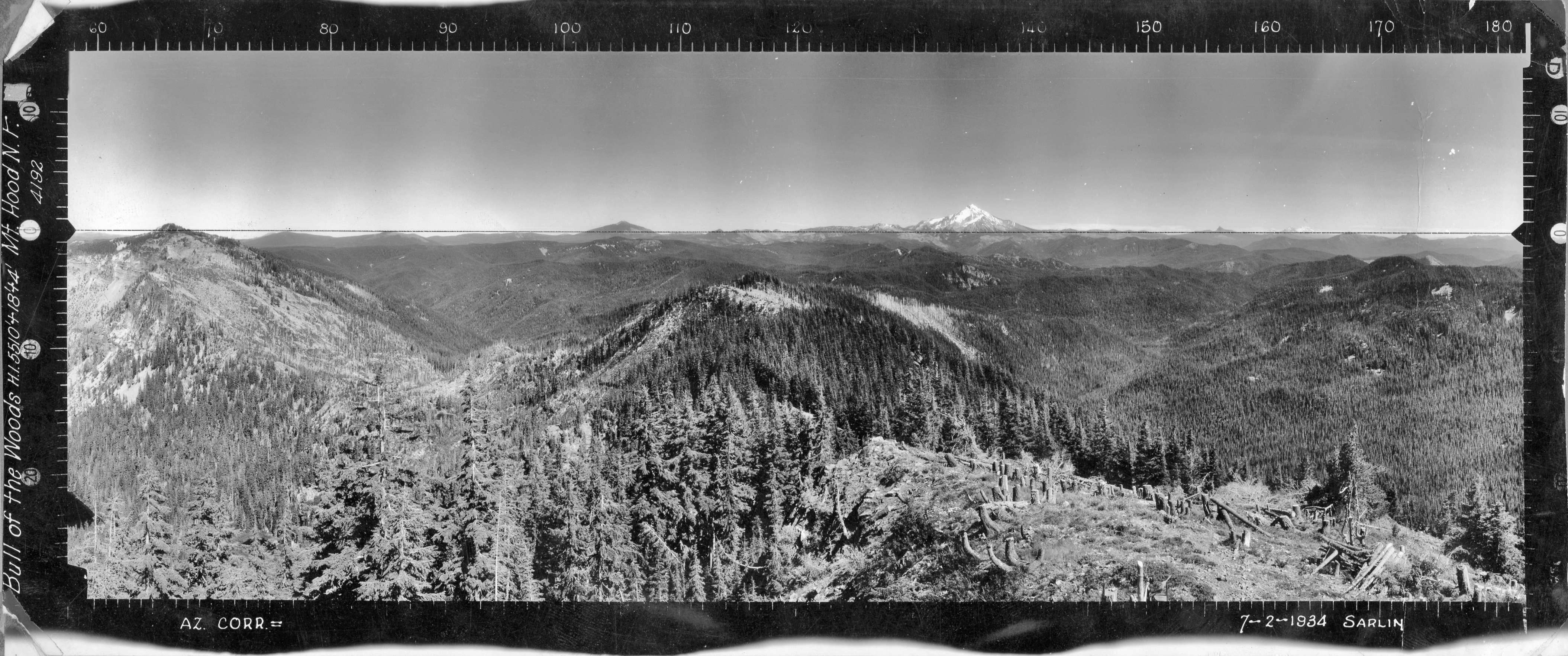 Saw a woodpecker. Cool to see him up-close!
This lookout hasn't been staffed in many decades so I was shocked to see the old outhouse still standing!
I wasn't alone up there; people came and went, but it was never crowded. I lounged around on the summit for a few hours, just soaking up the views and (finally) the sunshine, once the high level of clouds burned off. This weird little cloud looked like a doodle across the sky.
Finally with a parting shot I tore myself away and hiked down the Bull of the Woods Trail to finish my loop back to the car.
I picked up the Dickey Lake Trail and headed downhill. This trail has A LOT of downed trees on it. Some of them are situated in such a way that the only way to get past is to get down on your hands and knees and crawl under.
And then I saw a grouse chick! I caught movement out of the corner of my eye and saw a mama grouse, and then I got just a glimpse of a fuzzy chick disappearing down the trail ahead of me. Mama was acting very protective and making all sorts of noises. She seemed like she might act aggressively towards me if I tried to pass (she was just off trail in the forest). I stepped back and gave her a few moments, thinking she'd follow her chick (and, presumably, its siblings), but I later realized she wouldn't do that, drawing attention to her babies. I eventually hiked past very quickly and although she flapped around and got upset, she didn't attack me. I didn't see any more of the chick.
I took the little side trip to brushy Dickey Lake, then kept moving to escape the mosquitoes.
Back at the car I dumped my gear in, did some very quick stretches so I wouldn't be limping today (all the while flapping and flailing at the mosquitoes) then jumped in the car and drove away. I didn't even take the time to change from boots to crocs.
There are only seven lookouts still standing in the Mt. Hood National Forest and after today the only one left I haven't visited is Sisi Butte. (Well, Hickman Butte, too, but I'll never get to visit that one since it is in the Bull Run Watershed.) This was a totally GREAT hike for a clear summer day.
By the way, there must have been at least 100 people backpacking in the Bull of the Woods Wilderness this weekend. I saw plenty of backpackers just in the little corner of the wilderness I hiked through. I'm sure that there were lots more in other areas.