Our Sunday hike took us up to Soda Mountain and a wildflower bonanza:
This had not been our original plan. It had been our intention to explore around Observation Peak (southeast of Mt. Ashland) and to check out the lookout on Dutchman Peak. But just 1.5 miles past Grouse Gap we encountered this on Road 20 at 6900′:
CRAP. We still had three more days here and everything else we wanted to do was down that road. I was incredibly annoyed because on June 27 the Rogue River-Siskiyou National Forest had posted on Facebook that the gate on Road 20 was open, saying nothing whatsoever about snow still being on the road. And when I called on June 28 to ask about access to the Wrangle Campground (beyond that snowdrift), they didn't say anything about the road being impassible.
So we sat here on the road, pouring over the books and maps, trying to decide what to do. I felt annoyed at having wasted time planning a weekend itinerary that was never possible, and annoyed at the Forest Service for yet again leading me astray. At least we had a nice view from this spot.
We weren't sure about Monday and Tuesday, but for today we decided to head over to Soda Mountain in the Cascade Siskiyou National Monument. It was pleasant and warm up in the mountains, but as we descended down into Ashland the temperature shot up. We wound our way east over to the monument and parked at the trailhead. The PCT crosses the road here and we'd be heading south on the trail.
We quickly hit a wildflower bonanza. Yowza!
Mt. Ashland in the distance. Our campground is right below the summit.
We could see ahead to the summit of Soda Mountain:
The trail entered the cool shady forest, which felt great because it was really hot out.
After a mile an unofficial trail heads uphill from the PCT and joins up with the rough dirt road that accesses the summit. This short little connector doesn't appear to receive much maintenance.
Then it was a hot trudge up the road to the summit. This part was just under a mile.
The summit is rather ugly, crowded with all sorts of towers and equipment. There's so much of it that the lookout itself is dwarfed by it all. The mountain for which the wilderness is named doesn't feel like wilderness at all: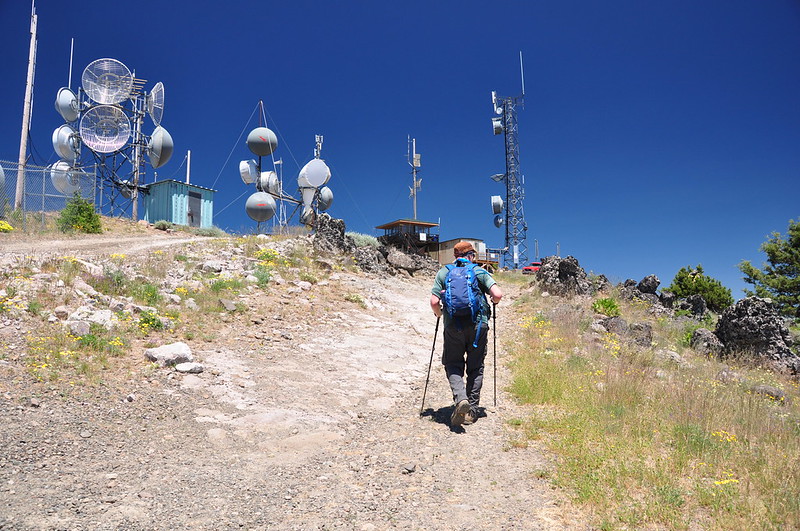 Mt. McLoughlin:
Looking northeast:
Pilot Rock:
Summit wildflowers:
And of course, Mt. Shasta:
Are those the Trinity Alps, the snowy mountains to the right of Shasta?
We crawled under a deck by the radio tower for some shade while we ate a snack. Then it was a quick hike back to the car. It was really hot so we stopped in at Caldera Brewing for some Plan B research and some cold beers before heading back to our campground.
Back at our cooler high-elevation campground we enjoyed the vistas from our campsite:
And at midnight I got up to check out the stars. It wasn't the best star-gazing conditions because of the BRIGHT moon, but it was still pretty cool. Mt. Ashland behind our campsite:
Looking south with Mt. Shasta barely visible on the left: