Type: L-4 Ground Cabin
Status: Staffed
Elevation: 5,369 feet
Visited: July 4, 2014
To get to Carpenter Mountain you have to weave your way through the H.J. Andrews Experimental Forest. I got a glimpse of the lookout perched way up there as I drove up.
You have to park at a trailhead about a mile away and hike up. There was quite a lot of beargrass blooming at the trailhead and along the first 0.1 mile of trail. (There were at least half a dozen different kinds of wildflowers blooming along the trail, which I wasn't expecting.)
There were a few open spots on the trail providing tantalizing views to the south.
But it was mostly shaded, which was a good thing on this hot day.
Almost there!
Made it!
I met Rob, the guy working at the lookout for the summer. I was also pleasantly surprised to run into Don Allen, from the Sand Mountain Society. He and I have corresponded a bit about the work of the SMS so it was a real pleasure to finally meet him. We sat and chatted about lookouts for awhile. Kind of fun to nerd out with a fellow lookout enthusiast.
The views up there are fabulous! Here is the tippy top of Mt. Hood:
Mt. Jefferson had some groovy clouds above it:
Mt. Jefferson, Three Fingered Jack, and Mt. Washington:
Three Sisters:
Wolf Rock:
The pointy peak just left of center is Iron Mountain. The brown peak right of center is Cone Peak. The more distant peak at center is Battle Ax.
The quirky-looking summit of Tidbits Mountain, where I would hike on Sunday: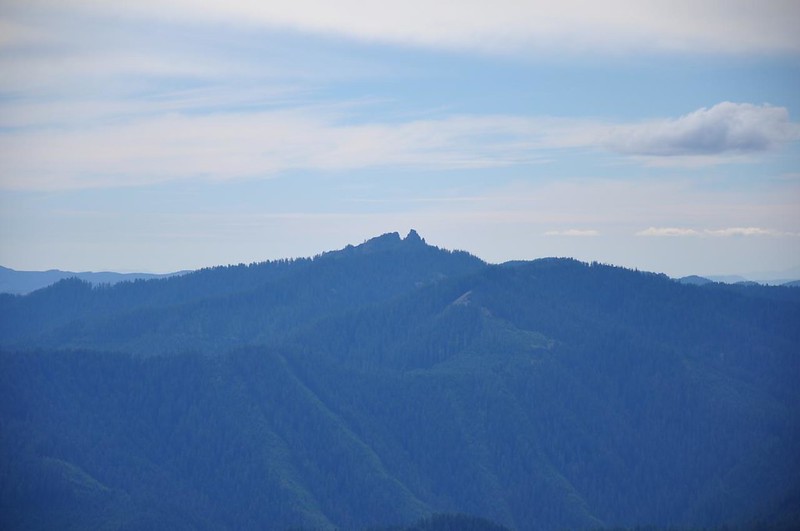 Diamond Peak:
After lingering for quite awhile I was getting hungry and it was a long drive back to the campground, so I reluctantly tore myself away and headed back down. Great little hike; highly recommended!